Philippe Olivier, the cheese refiner
The Philippe Olivier team in Boulogne-sur-Mer is passionate about promoting a certain idea of cheese in France and around the world.
Interview with artisan cheese-maker Romain Olivier, who took over the family business.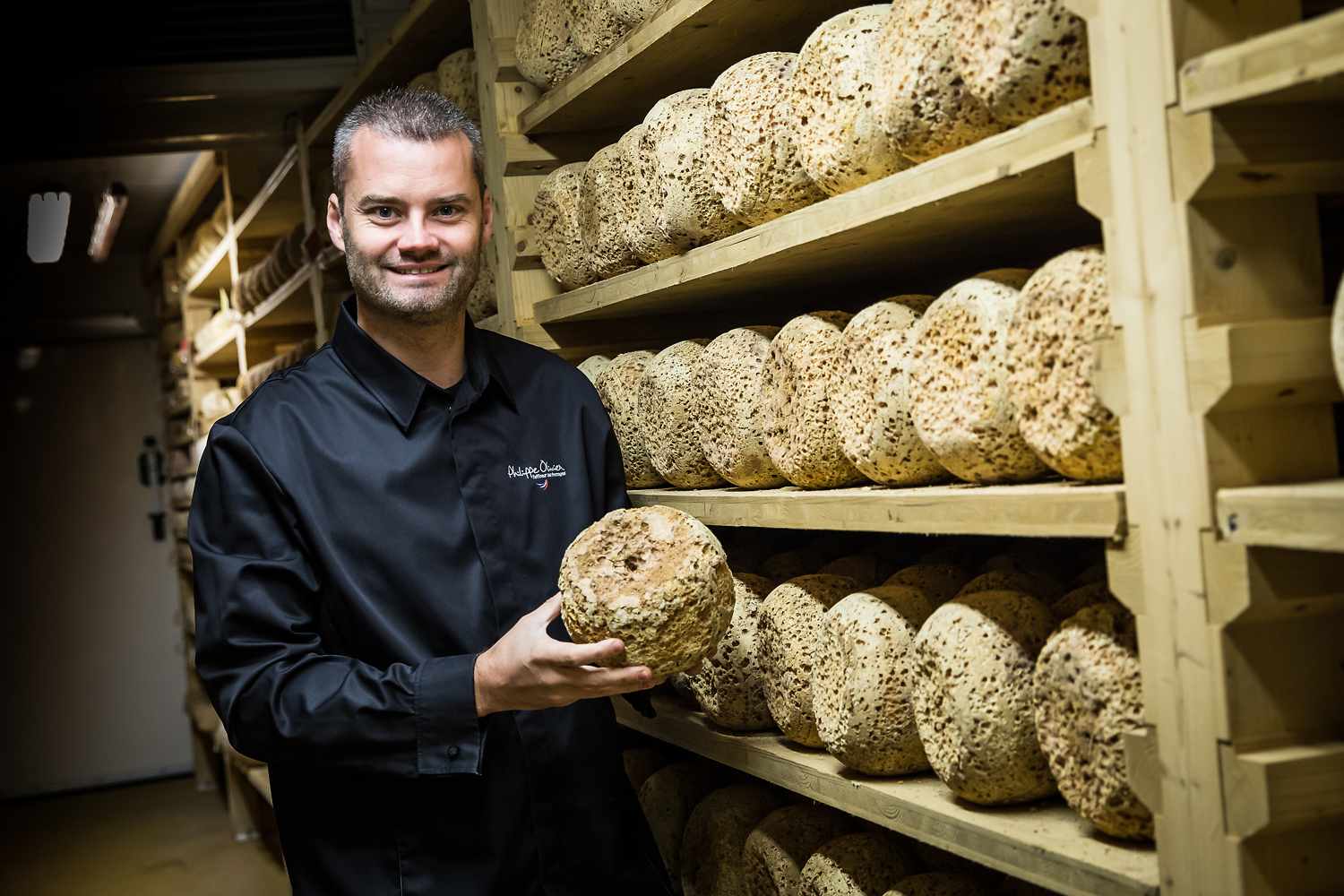 "Employees, producers, customers: we're all united by our love of cheese and our desire to share it".
The Philippe Olivier story is a true family saga...
Exactly. For four generations, we've been "in the milk, cream and cheese business". The story began in 1907 in Normandy. While his older brother carried on the family tradition in Dieppe, my father did the same in Hauts-de-France, where he settled in 1974. He had run out of natural caves for maturing, so he had five red-brick ones built, each with a different atmosphere. In 2014, we moved them to our new site in Boulogne-sur-Mer. Humidity, temperature, light density... we paid attention to every detail.
What are you doing in these cellars?
Here, we mature 300 varieties of cheese collected from 185 French and European producers, including some 20 exclusive varieties that had disappeared and whose production we have revived, such as Vieux Boulogne, a local cheese halfway between Pont-Lévêque and Maroilles. Refining the cheeses is the exclusive mission of our five cellar managers. They regularly turn the cheeses over, brush them and wash them again, all by hand. Their job, carried out out of sight, is little-known. There's no training for them, and they learn with time and experience. The added value of the maturing process becomes apparent when the cheese is tasted. And what added value! By placing the cheese in optimal conditions, it allows it to develop all its richness. It's not so much a craft as an art, and at Philippe Olivier we're constantly perfecting it. We work with living matter, in a very empirical way, and from this point of view, each of our cheeses is unique. But we also take care to maintain a certain standard of quality to ensure that all our customers are fully satisfied.
What do you base the company's development on?
We are driven by one ambition: to enhance the value of our cheese heritage. That's why, as well as strengthening our expertise as a cheese maturer, we attach great importance to collecting the cheeses we market. Every year, we taste around 200 new cheeses, selecting between two and four. Our criteria are always the same: flavor, producer technical skills and territorial coverage.
Who do you market your cheeses to?
Half of our sales are made to the general public via a network of affiliated or wholly-owned boutiques. A quarter is used to supply restaurants and caterers. The remaining quarter is sold internationally. As early as 1976, my father turned his attention to the UK, which is only 35 kilometers from Boulogne-sur-Mer, and since the early 2000s, we've been focusing on exports. Today, our cheeses can be found on the tables of 17 foreign countries, in Europe, Asia, the Middle East... Most of these sales are the result of wonderful encounters with local chefs.
So important that I have a background in management and sustainable development! That said, we've been environmentalists before our time in our company. We've always preferred to source our products from small producers in unspoilt natural environments. We enter into long-term partnerships with them and ensure that they receive fair remuneration. In addition, we have implemented an internal social policy based on respect: respect for people and life cycles, with measures such as the annualization of working hours. Philippe Olivier is first and foremost a team united around shared values, and we integrate all our stakeholders, including consumers, into our community. Five years ago, we created a "cheese club" with customers from our boutiques. And thanks to the information and advice we provide to those who buy our cheeses, we contribute to education in healthy eating, which is also a responsible lifestyle choice.
Philippe Olivier, the well-known cheesemonger on rue Thiers, has moved back into a completely renovated store. A new start" for the CCIBM's Vice-President for Commerce, Chevalier de l'ordre du Mérite...